VDO Panel Version 1.3.3 Released
VDO Panel Version 1.3.3 Released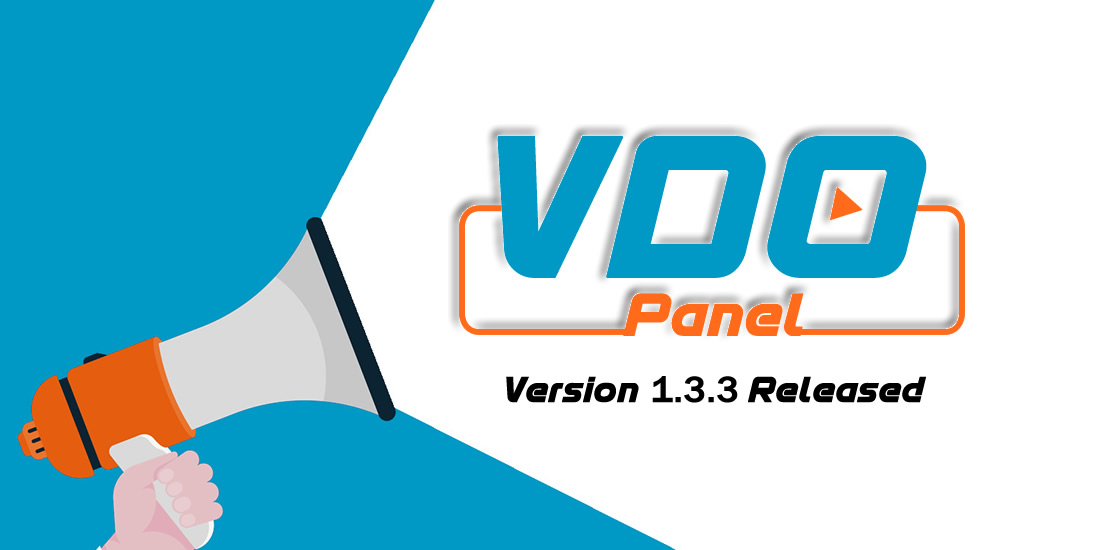 Today, We're happy to announce the release of VDO Panel (Video Streaming Control Panel): Version 1.3.3 Released.

Major Update Included in Version 1.3.3

Added : Loadbalancing now support multi bitrate feature
Added : VOD [ Video on Demand ] tab has been added to broadcasters portal
Added : More control in branding watermark logo on stream for horizontal and vertical control
Added : Direct url for fullscreen embed player in embed page
Added : Autoplay option for video players (in player pages, widgets and embed player)
Added : In embedded video player add fast and slow option with forward and back 5 seconds buttons
Added : Convert Tool under WebTV tab to convert video files to mp4 type compatible with vdopanel
Added : More video extensions type has been added to File Manager dropzone uploader
Added : New button convert to mp4 has been added to File Manager page


Updated : Geodatabase on local server
Updated : WHMCS Module Updated

Improvement : Check space usage for broadcaster before download from youtube, record live, record restream and file manager
Improvement : Loadbalancing installations and other functions
Improvement : Embed player to protect right click for save as the videos
Improvement : File manager uploading progress bar and add more info for available free space

Changed : Embed URL has been changed
Changed : Sorting login logs by date instead of IP

Fixed : Custom stream validation to not use rtmps urls
Fixed : Bug in server nodes feature when add new server and add timeout settings
Fixed : Bg in restore backup function
Fixed : Add broadcaster permissions to the embed page
Fixed : Bug in restream recorder feature
Fixed : NGINIX memory leak causing stop nginx service when appear active status
Fixed : Suspend function with multi stream accounts type

~~~~~~~~~~~~~

To Apply Update

~~~~~~~~~~~~~
Login to your server via SSH Root login is a requirement, the installation will not function if you are not logged in as root or have sufficient sudo privileges.

Now Run the following command:

vdopanel update

~~~~~~~~~~~

As always, all kinds of feedback are greatly appreciated. Thank you, enjoy.